News
Educator Academy in the Amazon Rainforest
The July 1-11, 2018 Educator Academy in the Amazon Rainforest of Peru is a cross-curricular professional development workshop for K-12 formal and informal educators to learn and use:
21st Century Instruction: 5E Lesson Design ~ Inquiry-Based Exploration ~ NGSS ~ STEM
Inquiry Protocols & Resources: Project Learning Tree ~ Cornell Lab of Ornithology ~ & More!
Global and Cultural Perspectives: Service Learning ~ Sustainability ~ Global Education
Join Al Stenstrup, Project Learning Tree; Dr. Nancy Trautmann, Cornell Lab of Ornithology; Kristie Reddick, The Bug Chicks; along with scientists Dr. Steve Madigosky, Widener University; and Randy Morgan, Curator/Entomologist, Cincinnati Zoo as you:
Work side-by-side with scientists and researchers on citizen science projects and field studies on the ACTSPeru Rainforest Canopy Walkway in one of the world's most biologically diverse environments.
Explore conservation and sustainability via hands-on workshops with indigenous communities.
Spend a day in an Amazon village and explore the role of education in creating a sustainable future for Amazon children.
Work with fellow educators and develop strategies for using the Amazon as a vehicle for incorporating standards-based inquiry, STEM, and sustainability education into your classroom.
PLT Certification, BirdSleuth, and other resources included. Academic Credit and Machu Picchu Extension optional. $1100 scholarship deadline February 1, 2017. With a scholarship, Academy Program fees are $1395 + air. Space is limited to 30 educators - Register early to secure your spot!
Get the details and download a syllabus and scholarship application at: www.amazonworkshops.com/educator-academy. Contact Educator Academy Director, Christa Dillabaugh, for more information:
Email: christa@amazonworkshops.com // phone: 1-800-431-2624.
World of 7 Billion Video Contest
Back by popular demand, the World of 7 Billion student video contest helps you bring technology and creativity into your middle and high school classes. The contest challenges your students to create a short video connecting world population growth and one of three global challenges: Advancing Women and Girls, Feeding 10 Billion, or Preventing Pollution. Students can win up to $1,000 and participating teachers will receive free curriculum resources. The contest deadline is February 22, 2018 – use this lesson plan to get started now! Full contest guidelines, resources for research, past winners, and more can be found at https://www.worldof7billion.org/student-video-contest/.
2017-2018 Esri School Teacher Video Challenge
At Esri, we are impressed by and want to showcase the hard work and creativity of U.S. K-12 teachers using ArcGIS Online. So, we are holding a monthly video challenge. Show us the powerful things you do! Learn more!
New Ways to Explore with Google Earth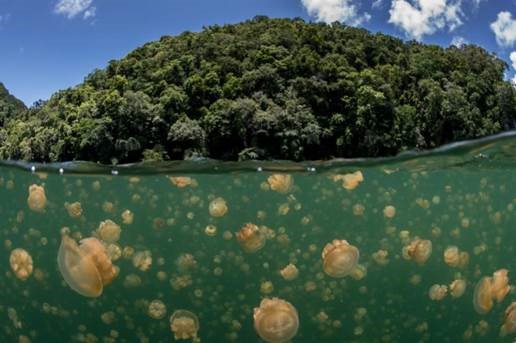 Photo Credit: Enric Sala
Did you hear the news? National Geographic has teamed up with Google Earth so you can show your students the world without leaving the classroom. Check out our free educational resources and join Nat Geo Explorers such as Paul Salopek in the field with map-based stories. See why other educators use these resources to empower our next generation of explorers.
Traveling Giant Floor Map of Illinois

Download a copy of the Traveling Floor Map Flyer
Exciting News! You will soon be able to borrow a giant floor map of Illinois from the Illinois Geographic Alliance!
The Illinois Geographic Alliance has received two Illinois Giant Traveling Maps from the National Geographic Society. To advance our educational mission, the Illinois Geographic Alliance will make these maps available to schools, organizations, and communities in Illinois free of charge. The standard loan period will be one week.
The Illinois Giant Traveling Map was designed by the National Geographic Society for 3rd and 4th grade state studies; however, it is applicable for a variety of students (Pre-K through university) and adults in school and non-school settings (e.g., libraries, community centers, scout troop events, etc.).
The map dimensions are approximately 14 feet by 21 feet and the map weighs approximately 17 pounds. Because it is made of soft vinyl (similar to a thick vinyl tarp), it can be folded and easily carried by one person.
The map will either be shipped or delivered in a plastic trunk on wheels similar in size and shape to a carry-on roller bag/suitcase. In addition to the map, the trunk will contain a binder with laminated and non-laminated copies of the map key and sample lessons/activities. Non-consumable materials will also be provided for these sample lessons/activities.
Look for more information and the online request system to be available on our Illinois Geographic Alliance website in the near future. Questions can be directed to iga@illinoisstate.edu or (309) 438-8115.