Events
Celebrating 200 Years of Illinois History: Exploring Geography through Primary Sources in the Elementary Classroom Workshop
July 10, 2018 at Illinois State University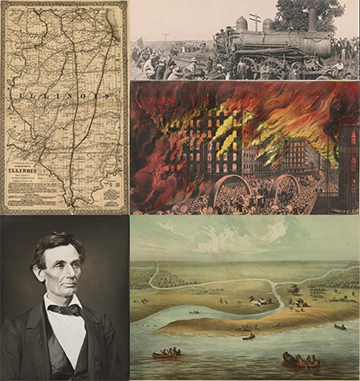 Download pdf flier
The Illinois Geographic Alliance (IGA) and the Library of Congress Teaching with Primary Sources (TPS) Midwest Region are pleased to offer a 1-day workshop for elementary teachers as part of the Illinois Bicentennial celebration in 2018. The goal of the workshop is to introduce primary sources (e.g., maps, photographs, documents) related to the Illinois Bicentennial that elementary teachers can use to integrate into their existing curriculum. Come join us as we celebrate 200 years of Illinois history!
CPDU credits will be provided at no cost to all teachers. The workshop is free, but participants must register for the workshop by June 22, 2018. Please register online here. Questions should be directed to:
Dr. John Kostelnick
Department of Geography, Geology, & the Environment
Illinois State University
jkostelnick@ilstu.edu
(309) 438-7679
Illinois Geographic Alliance Summer Geo-Inquiry Workshops for K-12 Teachers
Do you believe in empowering students to think like explorers? In building geographic competency across disciplines? In inspiring students to be global thinkers who can change the world? If so, you're in good company here.
The Illinois Geographic Alliance (IGA), in partnership with the Geographic Society of Chicago and the Geographic Alliance of Iowa, is pleased to announce three Exploring the Geo-Inquiry Process summer workshops for educators. These 2-day workshops seek to inspire educators to teach students about the world in innovative and interdisciplinary ways. The experience will provide participants with professional recognition and development; connections and community with like-minded educators; and relationships, resources, and perks with National Geographic.
The Geo-Inquiry Process relies on using a geographic perspective, offering a unique lens to analyze space, place, and the interconnections between both the human and natural world. Using both a geographic perspective and the Geo-Inquiry Process students begin to connect complex components, see patterns, and make connections that change their communities.
Participating teachers will receive a $150 stipend for successful completion of the workshop. In addition, Professional Development hours (formerly referred to as CPDUs) will be provided for Illinois K-12 in-service teachers who participate in the entire workshop.
Workshop priority will be given to middle school social studies teachers, middle school science teachers, and middle school teacher librarians/media specialists. However, elementary, high school, and other educators are encouraged to apply and will be invited to attend as space permits.
Three workshops will be offered in Summer 2018:
June 14-15, 2018: Geo-Inquiry Workshop in the Quad Cities, Illinois and Iowa (co-facilitated by the Illinois Geographic Alliance and the Geographic Alliance of Iowa)
June 18-19, 2018: Geo-Inquiry Workshop at Illinois State University, Normal, Illinois (co-facilitated by the Illinois Geographic Alliance and the Geographic Society of Chicago)
July 23-24, 2018: Geo-Inquiry Workshop at Northeastern Illinois University, Chicago, Illinois (co-facilitated by the Illinois Geographic Alliance and the Geographic Society of Chicago)
Thanks to a grant from the National Geographic Society Education Foundation, there is no fee to participate in these workshops; however, space is limited.
For additional details about each workshop, including the online application information, please see the workshop flier.
Questions can be emailed to the Illinois Geographic Alliance at iga@ilstu.edu.
Reading Material Maps in the Digital Age: An NEH Summer Seminar for K-12 School Teachers
July 9 - August 3, 2018 at The Newberry Library

Download pdf flier
The Newberry Library's Hermon Dunlap Smith Center for the History of Cartography is pleased to announce its 2018 NEH Summer Seminar for K-12 school teachers, "Reading Material Maps in the Digital Age". The four-week seminar, led by Dr. James Akerman (The Newberry Library) and Dr. Peter Nekola (Luther College), will focus on the practice of critically reading and teaching from original map documents, informed by the most recent cartographic scholarship. Material maps are still useful in our everyday life, but there is no question that teaching cartographic literacy is complicated by the advent of the digital age. If material maps are in fact fading in popularity, what pedagogical purposes can these objects still serve in K-12 humanities teaching? How can we learn from the material map's physical presence, historical uses, and meanings? Grounded in the renowned map collections of the library, this exciting program will consist of seminar sessions, readings, workshops, field trips, and personal research.
Applications are encouraged from K-12 faculty in all disciplines. Successful applicants will receive a stipend of $3,300 to help defray travel and housing expenses. The deadline for applying is March 1, 2018. For more information on the seminar, program faculty, stipend and housing information, and how to apply, please go to the "Reading Material Maps" website: readingmaterialmaps.wordpress.com. Additional inquiries may be directed to:
Kara Johnson
Program Assistant, Hermon Dunlap Smith Center for the History of Cartography
The Newberry Library
60 W Walton St
Chicago, IL 60610
(312) 255-3575
johnsonk@newberry.org