News
Statistics in Schools
Statistics in Schools is a free program from the U.S. Census Bureau offering data, tools, and activities that correspond with relevant education standards and guidelines and that use real-life census information for teachers to incorporate into their lesson plans. This is not just a math program--it includes geography, sociology, and history activities. Through this program, students can connect the world around them to what they are learning in the classroom.
Learn more & access free resources here.
Teachers of Critical Languages Program (TCLP)
Download the TCLP Flyer shown. We are pleased to announce the opening of the Teachers of Critical Languages Program (TCLP) grant application! TCLP is fully-funded by the Bureau of Educational and Cultural Affairs of the U.S. Department of State, and helps U.S. K-12 schools to launch new or expand existing Arabic or Chinese language programs.
TCLP makes it easy for U.S. schools to grow their critical language programs by placing fully-funded teachers from Egypt, Morocco, or China to teach Arabic or Chinese as a foreign language for an academic year. By sharing their languages and cultures, the teachers bring global competencies to their host schools and communities. Host a teacher in 2017 by starting an APPLICATION today!
Since 2006, TCLP has sponsored 212 highly trained teachers that have worked in 148 schools across 37 states and impacted over 73,000 students! TCLP teachers have also collectively conducted over 14,200 hours of cultural outreach to bring international experiences to their host schools and communities.
We invite you to learn more about hosting a teacher at your school and to speak with host school alumni about their experiences with TCLP by attending a live informational webchat at 4:00pm (EST) on one of these dates:
Thursday, December 8, 2016
Wednesday, January 4, 2017
To attend a webinar or to apply to TCLP, please visit http://tclprogram.org/host-school-application. The application deadline for TCLP host schools is Monday, January 23, 2017 at 11:59pm EST.
Win a Trip to New York City
National Geographic is rewarding educators with an opportunity to travel to New York City! Registered school Bee coordinators get one sweepstakes entry for holding their own school Bee, and an additional entry for each referral to a new school Bee coordinator. Visit NatGeoBee.org for details.
A message for Illinois Geographic Alliance members from National Geographic…
Dear educators,
On behalf of the National Geographic Society, you have been nominated by your state Alliance to become a charter member of the digital National Geographic Educator Community, set to launch in late 2017. This digital community will allow you to engage with National Geographic explorers, staff, and like-minded educators from around the world. You will also have the opportunity to opt in and be the first to know about online opportunities, events, training, resources and programs.
Please join by clicking here and filling out the requested information. Thank you!
Vendee Globe: The World's Greatest Teaching Tool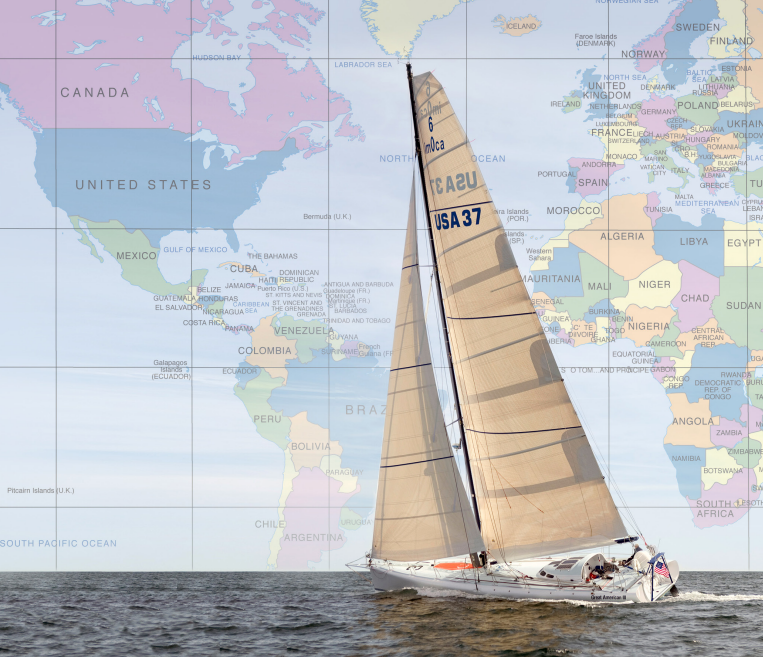 Join the only American Skipper, Rich Wilson, as he competes in this year's Vendée Globe, a solo, round-the-world, nonstop sailing race.
Competitors set sail and finish in Les Sables d'Olonne in Brittany, France after rounding the Cape of Good Hope in South Africa, Cape Leeuwin in Southern Australia, and the infamous Cape Horn at the tip of South America. In 2008, 30 skippers started Vendée Globe, and Wilson placed ninth out of the 11 who finished. Wilson is president of the non-profit organization, sitesALIVE!, that has produced 75 live, interactive, semester-long, curriculum-based, learning adventures since 1990.
The drama of the Vendée Globe, its risk, and the uncertainty of its outcome, is certain to excite and engage a student audience. Curricular subjects that are unconvincing in textbooks become convincing in this real-world context. The race overflows with geography, science, math, history; with stars, flying fish, whales, birds; with nutrition, sleep deprivation, physical fitness; with materials science, physics, electronics, satellites, mechanical engineering; with aerodynamics and hydrodynamics; with solar, wind, hydro, and fossil fuel energy systems; with risk and isolation; with determination, decision-making, problem-solving, and perseverance.
Visit http://vg2016.sitesalive.com/signup6 to sign up for weekly email updates, sent each Friday morning. Once signed up, bookmark the website to check each day on Wilson's progress via boat position map and audio report, send a question for Rich or one of the Team of Experts to answer, or participate in the online Forum. Regular updates will also be posted via Facebook and Twitter.
We hope you will join Rich Wilson on his 28,000+ mile expedition around the world!
Reach the World
Reach the World makes the benefits of travel accessible to classrooms, inspiring students to become curious, confident global citizens. Reach the World's programs transform the energy of travelers into a curricular resource for K-12 classrooms. Through our unique online platform, educators can match with a traveler whose backgrounds and interests are a close fit with the needs and academic goals of their students. Classrooms then embark on digital exchange journeys with their travelers-and expand their worldview, skills, and aspirations in the process.
Contact Christopher Ahearn (chris@reachtheworld.org) today to learn more and plan your virtual journey!
10 ESSA Issues to Consider
This report provides insight into key areas of the Every Student Succeeds Act that have prompted questions and concerns from education leaders and policymakers as they prepare to implement this new law: http://www.ecs.org/essa-quick-guides-on-top-issues/
Teach Atlas
A team from Illinois State University has developed a curriculum for 5th grade students that bridges technology, geography, social studies, science, and language arts. Learn more at teachatlas.com.
For questions about the curriculum, technology, adapting the materials for other grade levels, or workshops and training, please contact joel@teachatlas.com.
Explorer Magazine Brings Science & Adventure into the Classroom
Classroom subscriptions to National Geographic's Explorer Magazine are now available for the 2016-17 school year. Explorer's nonfiction content is authentic and engaging, and supports both reading and science standards. Subscriptions are available in print or digital, starting at only $4.50 per student. Learn more at NatGeoEd.org/ExplorerMag.
NCLB - ESSA Comparison
KnowledgeWorks has created a handy side-by-side comparison of No Child Left Behind and Every Student Succeeds Act. Check it out here! http://www.knowledgeworks.org/sites/default/files/ESSA-Opportunities-Advance-Personalized-Learning.pdf
Join the GeoMentors Community: A Nationwide Effort to Improve Geography and GIS Education
As part of the ConnectED initiative, Esri is donating free ArcGIS Online organization accounts to every K-12 school in the U.S. (account sign-up is available here). This gift introduces GIS software and geographic concepts into classrooms, allowing students to map and analyze data with the same technology used by government and businesses.
GIS is a powerful educational technology, but K-12 teachers already face considerable time constraints that can make it difficult to learn and implement a new resource. To address this need, Esri and the Association of American Geographers (AAG) are working together to develop a nationwide volunteer network of GeoMentors, knowledgeable GIS users who volunteer their time and expertise to help educators and administrators meet their classroom goals using GIS. The GeoMentors program maintains online maps and databases for collaborators to connect with each other, a curated collection of ArcGIS Online educational resources and curriculum materials, as well as several online groups and social media streams for community engagement and interaction.
To learn more about the program, visit www.geomentors.net, or register today to work with a GeoMentor or be one yourself! Contact AAG staff with any questions at geomentors@aag.org.
The GeoMentors community is ready and able to help make a difference in K-12 education with GIS!